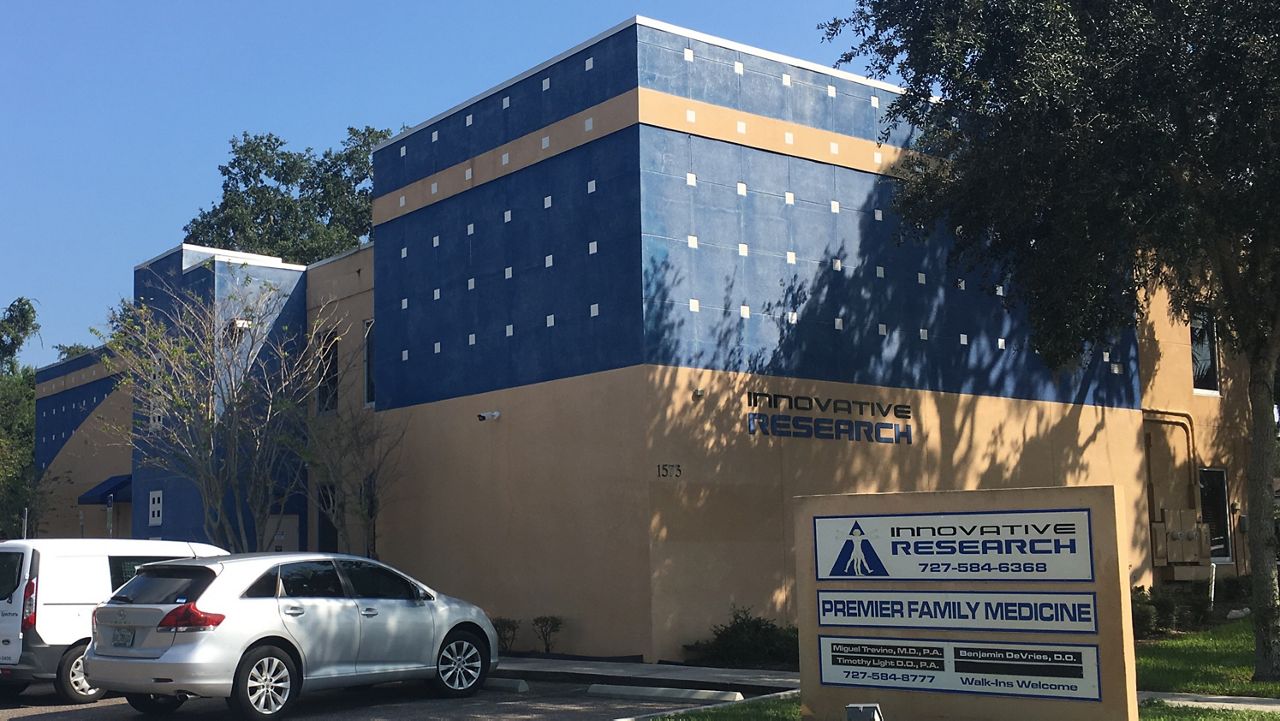 CLEARWATER, Fla. – It's been touted as a possible breakthrough in the fight against COVID-19 and is even reportedly one of the treatments given to President Trump after he tested positive. Now, a version of Regeneron's antibody cocktail that could prevent infection by the virus is in the final stage of clinical trials.
Innovative Research of West Florida is one of the sites nationwide conducting that research. It's been home to hundreds of clinical trials in the past.
---
What You Need To Know
Innovative Research of West Florida is still recruiting for a study into whether Regeneron antibody cocktail can prevent COVID-19 infection.
Ten participants enrolled at site so far
Double-blind study involves 12 weeks of follow-up
---
"I think when you're in the research profession, it's your happy place," said Co-Director Tracey Osborn of the facility. "It's what you like to be involved in because you feel like you're actually improving life as we know it."
Osborn said she thinks the trial has gone "exceptionally well" so far. Participants start out by taking a rapid nasal swab test. Once results confirm they're negative, they receive four injections of either the cocktail or a placebo. It's a double-blind study, so steps are taken to make sure not even the team knows who gets what. After that, researchers follow up with participants for at least 12 weeks, testing them for the virus and assessing their overall health. 
Innovative Research has enrolled ten participants in the study. One of the challenges has been that they're trying to recruit people who are in close contact with patients who have already tested positive for the virus, such as people living in the same household. They have four days from the time that positive test was taken to get people involved in the prevention study.
Another study is looking into whether an IV form of the cocktail can help fight the virus in people who test positive. It's the therapy President Trump reportedly received after he was diagnosed. Osborn said while not the same as the use her facility's study is exploring, this news may have helped overcome another challenge – uncertainty about COVID treatments.
"I think prior to the president getting his IV dosing, I think that everyone has a little bit of fear," Osborn said. "I think that that's the biggest problem that patients have is that they think they're injecting themselves with the live virus or it's going to make their condition worse, when in reality it's speeding up the course of time for recovery."
The hope is that trial results will lead to an approved therapy that can help speed the world back to normal. 
"Fortunately, there's been many companies that are at the forefront of this type of treatment with the antibodies, and I think that there's been extreme success in these treatment groups," said Osborn. "It's nice to see that we have some things right now that are successful, because in order to get us six months down the way or a year down the way, we have to have these because we'll be able to give these to individuals hopefully really soon.
Osborn said about 1,600 people nationwide are expected to take part in this last phase of the trial. She said Innovative Research is still recruiting for its study. Anyone interested in learning more about taking part can call (727) 584-6368.